Trojans are Eastern Conference Champs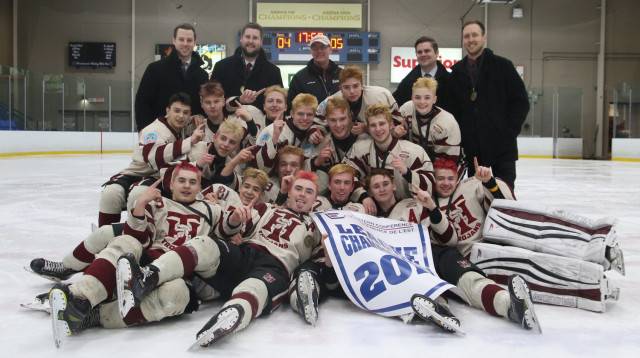 Sunday March 11, 2018
Johnny Chambers's goal at 2:02 of the 2nd overtime gave the Harrison Trimble Trojans a 5-4 win over the Riverview High Royals in the final to capture Eastern Conference championship. Brenden Rossiter 2, Chris Dunham, and Chris Meredith also scored for the Trojans while Luke Robison, Brad Knowlton, Liam Dolan, and Spencer Hau replied for the Royals. Goaltenders were Jamal Nelson for the Trojans and Josh Doyle for the Royals.
The two teams will take part in the North-East Regional series which will begin this week. Harrison Trimble will meet the Miramichi Valley Pulamoo while Riverview High will face the W-A-Losier Bisons. The winners of those series will qualify for the provincial championship tournament from March 23 – 25 in Fredericton.
(Photo Normand A. Léger)
Did you like this article? Share it!
Are you satisfied with the website of the Eastern Conference High School Hockey League?
x
Term of use Shark Media & Sport
The content of this site is private and purely informative. The rights of a visitor to this site cannot, therefore, be derived from the content of this website. This website is operated by and was created by SHARK MEDIA & SPORT. The data contained within this website are the intellectual property of and are copyright-protected. The data herein cannot be copied or reproduced without the prior consent of or SHARK MEDIA & SPORT, other than in contexts requiring on-line searches. However, you may print out entire pages of this site for personal use. For further information about the use of this site, please communicate with SHARK MEDIA & SPORT.