Patriotes are champs in Kentville, NS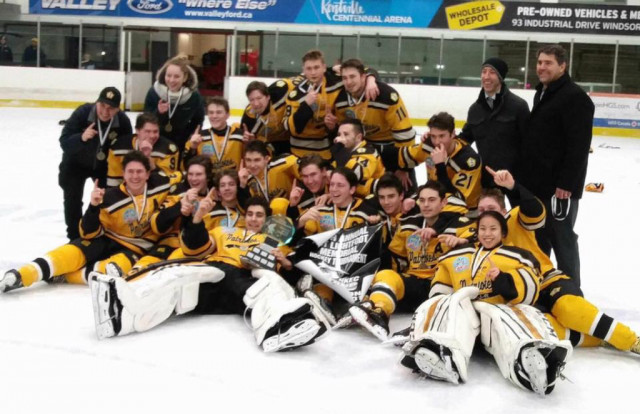 Monday February 5, 2018
The Louis-J.-Robichaud Patriotes are the winners of the 13th edition of the Art Lightfoot Memorial Tournament which took place in Kentville, NS from February 2nd to 4th. In the final, the Patriotes were victorious against the Cole Harbour Cavaliers by a 4-2 score. Maxime Boudreau, Marc Thobodeau, Alexandre LeBlanc, and Samuel Gallant took care of the offence while Alexandre Gould was credited with the win.
Did you like this article? Share it!
Are you satisfied with the new website of the Eastern Conference High School Hockey League?
x
Term of use Shark Media & Sport
The content of this site is private and purely informative. The rights of a visitor to this site cannot, therefore, be derived from the content of this website. This website is operated by and was created by SHARK MEDIA & SPORT. The data contained within this website are the intellectual property of and are copyright-protected. The data herein cannot be copied or reproduced without the prior consent of or SHARK MEDIA & SPORT, other than in contexts requiring on-line searches. However, you may print out entire pages of this site for personal use. For further information about the use of this site, please communicate with SHARK MEDIA & SPORT.