Matadors opens provincial tournament with win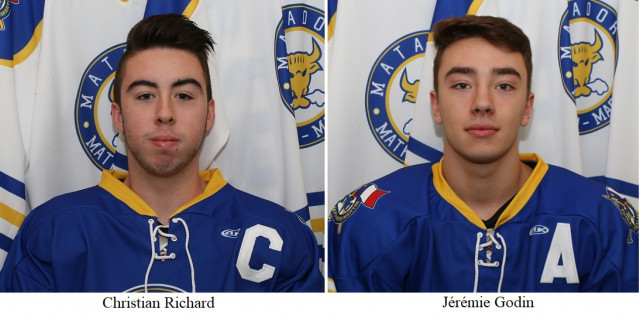 Friday March 22, 2019
Jérémie Godin's goal at 19:49 of the third period gave the Mathieu-Martin Matadors a 5-4 win over the Leo Hayes Lions in the opening game of the NBIAA provincial AAA championship tournament. The Matadors also received a big contribution from Christian Richard who scored twice and added an assist while the other goals came from Julien Cormier and Alex Melanson. Nick Rushton (2), Brady Gould, and Zach Bishop replied for the Lions. Goaltenders were Jérémie LeBlanc for Mathieu-Martin and Joey Cormier for Leo Hayes. The Matadors had a 27-22 edge in shots.
In the other game, the Cité-des-Jeunes Républicains won 6-4 against the Népisiguit Rebelles (ESN).
Did you like this article? Share it!
x
Term of use Shark Media & Sport
The content of this site is private and purely informative. The rights of a visitor to this site cannot, therefore, be derived from the content of this website. This website is operated by and was created by SHARK MEDIA & SPORT. The data contained within this website are the intellectual property of and are copyright-protected. The data herein cannot be copied or reproduced without the prior consent of or SHARK MEDIA & SPORT, other than in contexts requiring on-line searches. However, you may print out entire pages of this site for personal use. For further information about the use of this site, please communicate with SHARK MEDIA & SPORT.