2018-19 Regular Season Opens this Weekend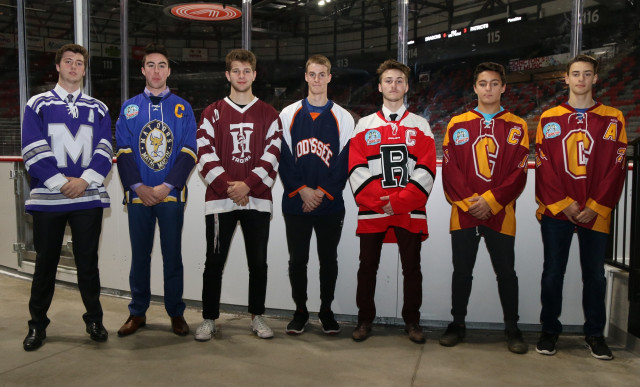 Monday November 5, 2018
The Riverview High Royals will visit the Moncton High Purple Knights on Friday to open the 2018-19 season of the Eastern Conference High School Hockey League. Game time is 7:45pm at the Crossman Community Centre. The full regular season schedule is available in the "Schedule" section of this website.
The players in the photo above are Bradley Dennis (Moncton High), Christian Richard (Mathieu-Martin), Alex Hayes (Harrison Trimble), Patrick LeBlanc (L'Odyssée), Jordan MacPhee (Riverview High), Nicholas Bastarache (Clément-Cormier) et Jérémie Caissie (Clément-Cormier). (Photo Normand A. Léger)
Did you like this article? Share it!
x
Term of use Shark Media & Sport
The content of this site is private and purely informative. The rights of a visitor to this site cannot, therefore, be derived from the content of this website. This website is operated by and was created by SHARK MEDIA & SPORT. The data contained within this website are the intellectual property of and are copyright-protected. The data herein cannot be copied or reproduced without the prior consent of or SHARK MEDIA & SPORT, other than in contexts requiring on-line searches. However, you may print out entire pages of this site for personal use. For further information about the use of this site, please communicate with SHARK MEDIA & SPORT.